Get the Most Favorable Deal
Selling your services to another company, starting a partnership, or entering into a mergers and acquisitions agreement is an exciting growth opportunity for any business owner. But sometimes, the rush of getting started does not allow you to reflect on whether or not you can receive better benefits from your transaction.
Our contract negotiation attorneys will carefully read your existing contract, analyze your alternatives, and strive to get the most favorable outcome for your business. Our contract attorneys have negotiated matters related to profit sharing, purchase agreements, technology licensing agreements, lease reviews, vendor contracts, and other commercial contracts, working to get her clients the best deal at the lowest risk possible.
How can a lawyer help me negotiate my business contracts?
Contracts can be tedious to understand and negotiate – and many contracts are even sloppy! An experienced contract negotiation lawyer has the ability to identify opportunities that may have been overlooked and the skills to attain the desired income for her client. A business lawyer also acts as a third party, providing an unbiased perspective of the transaction and protecting your interests.
The contract negotiation process consists basically of the following steps:
The lawyer understands your goals and helps you determine what you want from the contract. Also, the attorney reviews the legal document and explains its key terms, along with the role of the client in the deal and the risks involved.  
Once the client has clearly established the goal of the transaction and received supportive information to back up his demands, he can try to come to an agreement with the other party without the presence of the lawyer.
If the party is not able to convince the opposing party, the lawyer will intervene and use negotiation techniques to come to an agreement. 
The attorney makes the desired modifications to the contract and sends a copy of this new version to the other party, highlighting the recent changes. This step may include extensive back-and-forth communication until the lawyer helps both parties be satisfied with each other's proposals.
How our Contract Negotiation Services Work
Schedule a consultation where we will learn about your personal and professional goals, discuss your options, and explore how we can add value to your deal.
Once you decide to hire us, our Firm will review your contract and analyze how each provision affects your business and personal goals.
We explain your current situation, the risks the contract involves, and how we can make it more favorable for you.
Our lawyers will work on getting better terms for your business to reach an agreement that matches your goals.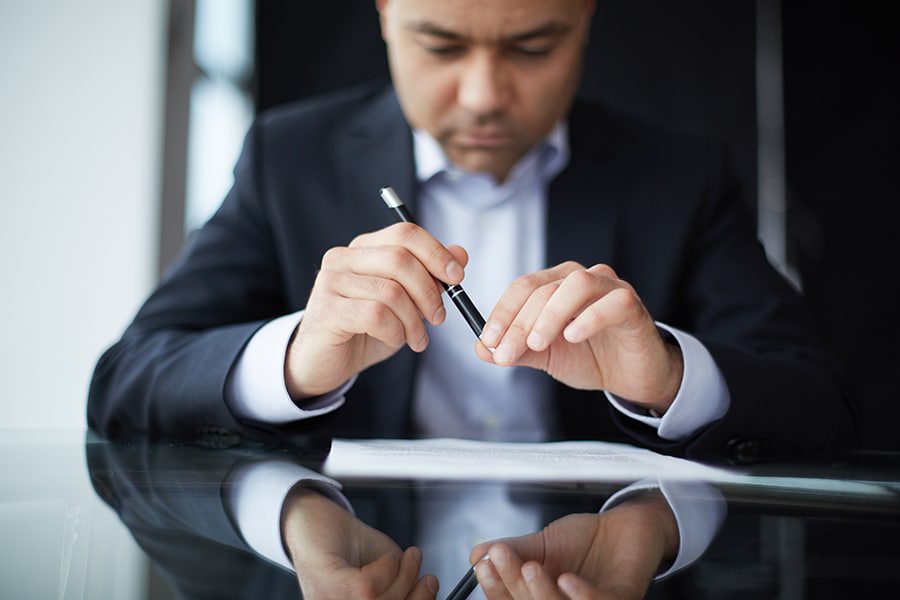 Contracts We Can Help With 
If your company is located in Chicagoland or the Tampa area, our attorney can assist you legally in the negotiation of the following business contracts:
Lease agreements
Partnership agreements
Asset and stock purchase agreements
M&A Escrow Agreements
Consulting and professional services agreements
Technology and telecommunication agreements
Buy-sell agreements
Non-disclosure and non-compete agreements
Joint venture agreements
Contract agreements
Franchise agreements
Managed service agreements
Terms and conditions for websites and mobile applications
Need Help With A Business Law Matter?
Making Business Transactions Easy
Our contract negotiation law firm will help you obtain a more beneficial deal out of your commercial agreements. With our contract legal services, you will be able to:
Understand Terms:  after our Firm reviews your contract, our attorneys will explain to you what are your rights and obligations.

Make informed decisions:  confidently enter the contract knowing what you are dealing with and how you can act in the future.

Get the most out of your contracts:  engage in an agreement that brings you the best benefits and is aligned with your personal and business goals.

Protect your company:  prevent disputes and allocate risks evenly between you and the other parties involved.
Identify your business goals and deal breakers early on: Be sure that you understand what is the purpose of the contract, what you expect to gain from it, and how accomplishing this goal will contribute to your overall business success. 
Start with a term sheet: In more complicated deals, a term sheet is a not binding draft of a contract. This document contains the main points of the agreement and can be used as a negotiating tool for the actual contract later on. 
Take your time: Before you rush into the negotiation, carefully read the contract and look out for any provisions or legal language that are not clear or go against your goals
Use the help of a contract lawyer: Even when you are able to understand the implications of your contract, a business lawyer will ensure your agreement complies with Illinois law and help you identify areas of opportunity and risk. 
Communicate clearly: As experienced business attorneys, we have been witnesses to distressful business disputes and legal conflicts. The main cause of this is usually miscommunication. Express to the other party any concerns you have, your expectations, or any terms you do not agree with. It's easier to set this up now than in court.  
Ideally, you should hire a business law attorney the moment you start informal discussions for a business transaction. Before you enter an enforceable agreement, a lawyer can help you write a non-binding term sheet that will contain the preliminary terms of the negotiation. Getting ahead of the opposing party and understanding the implications of the deal will place you at a more advantageous position in the deal and prevent last minute fallouts
However, if there is already a contract in place, you'll want to consult with a business lawyer before you sign the agreement. A Chicago contract attorney will help you decide whether to move forward with the deal and advise you on what modifications will be more beneficial for you, in case you want to continue. 
Motiva Business Law serves clients from all industries. This includes (but is not limited to):