An Area Development Agreement (ADA) is a type of franchise agreement in which a franchisee has the right and responsibility to open a certain number of franchise units in a particular territory within a set timeframe.
• In a Multi-Unit Agreement, a franchisor assigns an area to a developer in which they will be obliged to open a certain number of locations following a specified schedule.
• Typically, an area developer must pay a franchise fee and additional developer fees according to each opened location.
• An Area Development Agreement differs from a Master Franchise in the latter's ability to subfranchise the locations, while developers have to keep control of the branches themselves or through affiliates.


Key takeaways
How does it work?
In an ADA, also called a Multi-Unit Development Agreement, a franchisee's role is to introduce a certain number of units into a defined geographical area to quickly expand the brand's reach. The multi-unit developer will have exclusivity rights while being obliged to open several locations according to the development schedule.
An Area Development Agreement works in the following way:
1. A franchisee signs the regular franchisee agreement but also enters into an additional contract, the multi-unit development agreement. They obtain the benefits of this contract by paying a development fee. This is a non-refundable fee that is typically applied on a pro-rata basis, which means that a franchisee must pay a fee every time they open a new unit.
2. The owner of a franchise, called a franchisor, sets up the contract that specifies the terms of the ADA. This contract will define:

The market area where the Area Developer will be entitled to open new branches and in which they will have exclusivity. It can be a county, a state, or a more extensive region.

The number of units that must be opened by the franchisee

The schedule in which this task must be completed
3. The multi-unit developer is responsible for establishing the business units, paying ongoing royalties, supporting the locations that are under their control, complying with the standards, and delivering performance reports.
The Area Developer must open and operate the franchised units, but they are not allowed to sub-franchise to third parties.
Generally, if the franchisee fails to meet the development schedule, the franchisor has the right to cancel the agreement and keep the previously paid fee.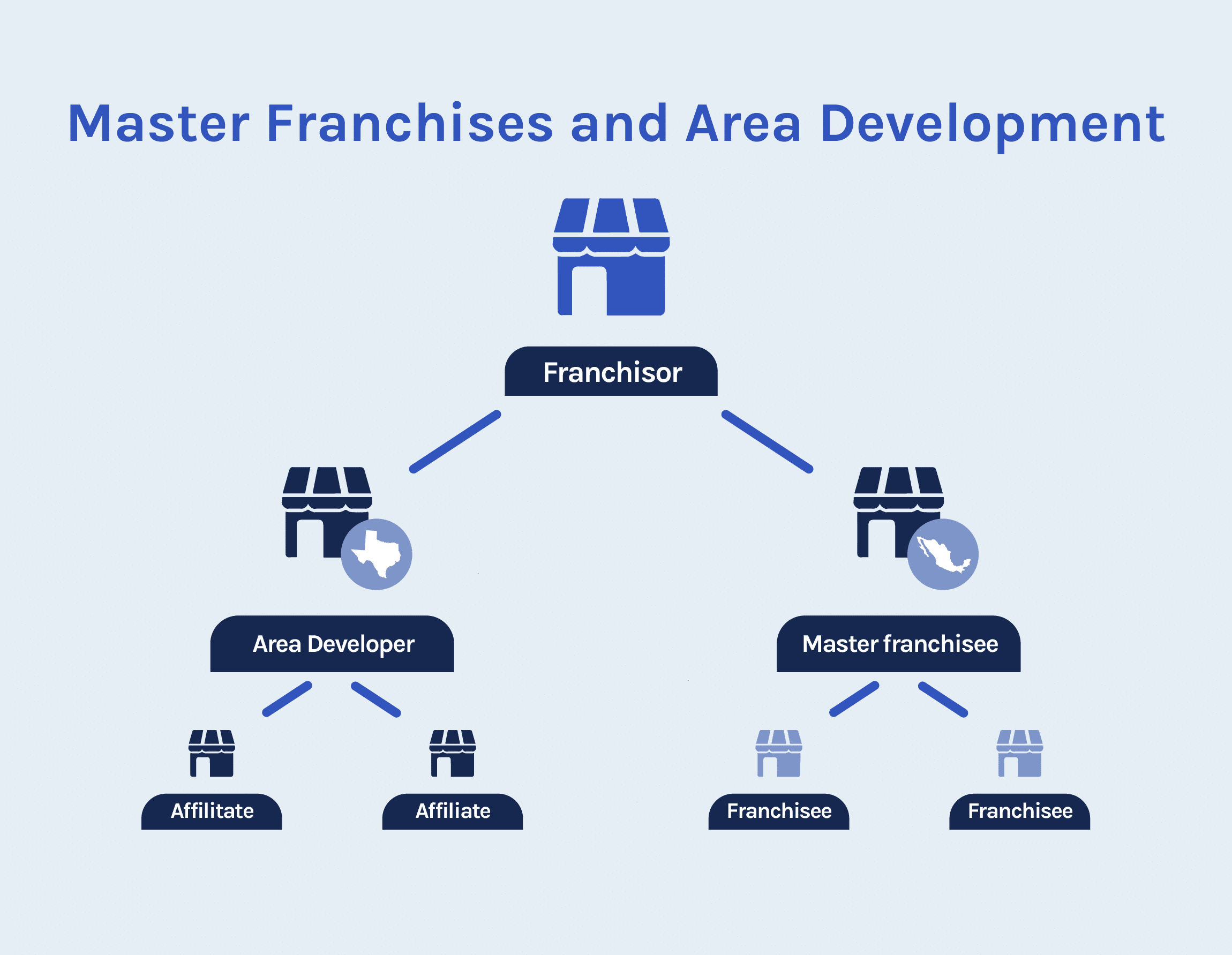 Example of Multi-Unit Development Agreement
Let's say you want to be the Area Developer of the Underway franchise.
To be a franchisee, Underway will ask you for an initial franchise fee of $50,000. For the Development Area Agreement, you will need to open five locations in Florida in a period of three years, scheduling an opening every 6 to 8 months. The fee for each new location will be $20,000. Every time you open a new location after completing the five that were initially agreed upon, the development fee will only cost $10,000.
The payment will be structured in the following way:
Initial franchise fee of $50,000
The developmental fee is four times $20,000, which sums to a total of $80,000
The total payment for opening the five locations is $130,000 (plus ongoing royalties)
A contract negotiation attorney will review the terms of the franchise agreement, discuss more beneficial options, and ensure you get the best terms.
---
Advantages and Risks of Area Development Agreements
---
Advantages
for franchisees
Exclusivity
When entering an ADA as a franchisee, you will not have to compete against your fellow franchisees for as long as you open the determined locations because you are the sole person with the right to operate in your area.
Additional benefits
If you have successfully achieved your milestones and settled the assigned number of branches in the stated schedule, you can open more locations for a reduced franchise fee. Similarly, you can benefit from lower royalty fees after establishing a certain number of locations.
Economies of scale
Having the control of multiple units allows area developers to have access to bulk pricing, and being able to negotiate with suppliers. You can also share employees between locations and cut costs related to local advertising.
---
For franchisors
Saving efforts
With an area developer, franchisors save the capital it takes to open new locations, and also the effort of training and supporting multiple franchisees.
Fast expansion
A brand can quickly expand its operations and improve its brand awareness at a fast rate. A multi-unit agreement allows the opening of different branches almost simultaneously.
Qualified franchisees
Experienced area developers have the skills, and knowledge to deal with the challenges of franchises, and are perfectly capable of operating multiple units, for the franchisor can easily delegate responsibilities.
---
Disadvantages
---
Risks for franchisees
Failure to meet deadlines
The agreement will specify a schedule and frequency in which ADs should open locations. If the assignment is not satisfied, there is a risk of contract termination. A franchise attorney can negotiate extensions that allow the developer additional time to set the required units without risking the arrangement.
Financing multiple locations
Aside from the fees, franchisees must have enough capital to establish and grow the required locations, which is a hefty investment.
Difficulty in management
Opening multiple branches is difficult enough, and franchisees have to also operate and ensure they meet the brand standards.
---
Challenges for franchisors
Vetting area developers
Opening multiple franchises is a task that requires a significant investment and abilities. A franchisor must be careful when choosing the perfect candidate, ensuring the potential franchisee is financially and intellectually capable of managing all the units profitably. A franchisee must also show a strong commitment to the business and a solid local network to develop it.
Standards not met
It is usual for franchisees to not meet the development schedule, which results in a valuable geographical area being stagnant and not wasting its potential. these defaults can lead to contract termination, which is not beneficial for any of the parties.
Disputes
Area development agreements are more prone to disputes when they have unrealistic terms. It's highly advisable to have a franchise attorney who will draft and review all the required contracts, negotiate fair terms, and include dispute resolution mechanisms.
---
Master Franchise vs. Area Development Agreement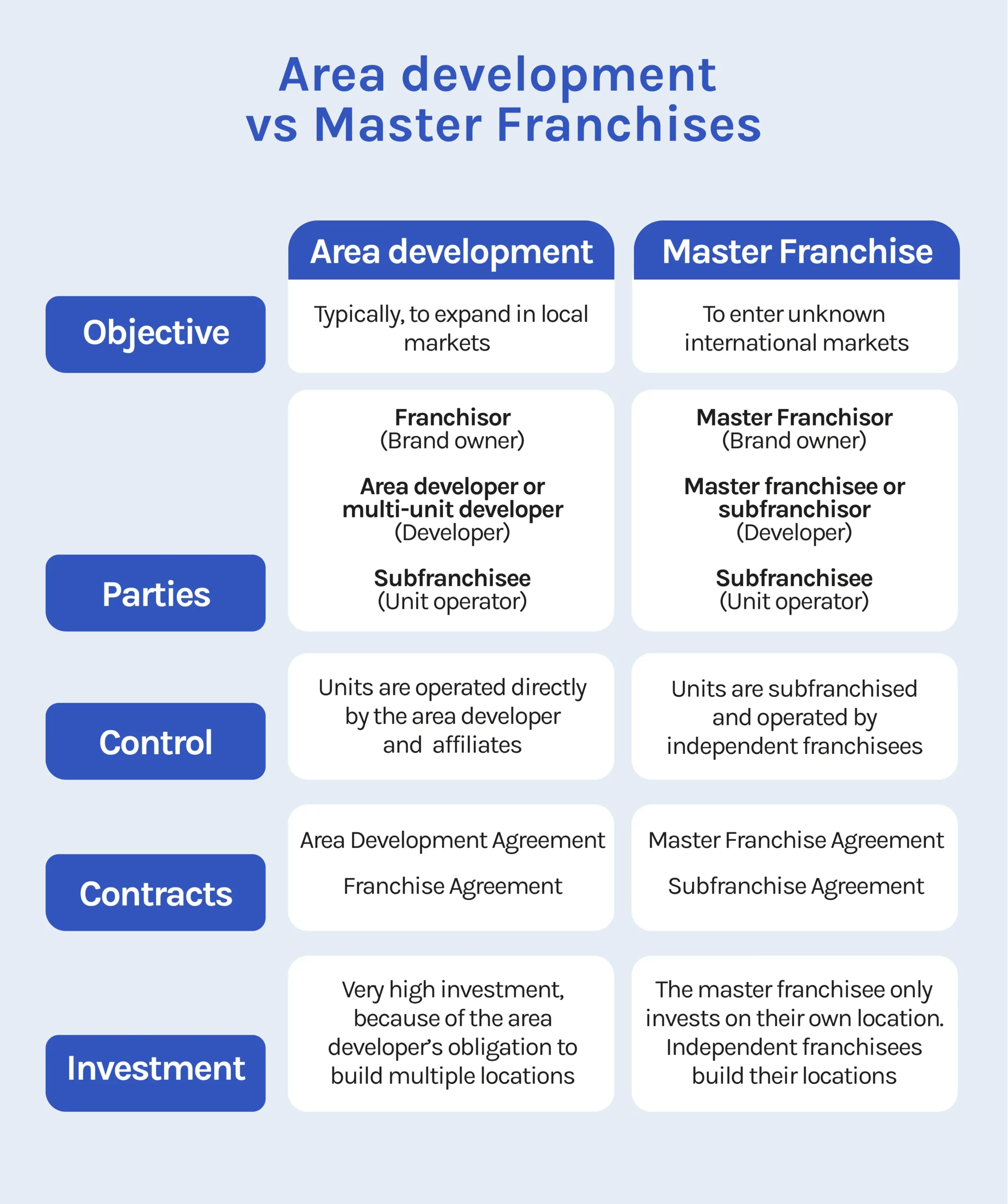 While both master franchises and area development agreements involve operating multiple franchise units within a specific territory, the main difference lies in the Master Franchisee's ability to subfranchise and recruit independent franchisees, while the Area Developer must be directly in control of the units.
The main objective of a master franchise is for the original franchisor to enter a new territory that is unknown to them in terms of culture. This is a resorted franchise system when trying to expand to other countries with different laws, languages, or buying habits.
With an MF, the original franchisor gives the right to a third party, called a Master Franchisee, to open multiple locations and have control of a specific area. The master franchisee now takes the role of a franchisor and is allowed to subfranchise the business to independent franchisees who will pay the royalties and fees to him.
A master franchisee must recruit and support franchisees, and each of them must establish its own location. Since an MF does not invest in building each location, they do not need such a high investment as the area developer. 
On the other side, an area development agreement has to establish and operate their franchise units themselves, paying additional fees with each opened location and following a predetermined schedule.
Entering an Area Development Agreement, whether you're a franchisor or franchisee, requires careful analysis of numerous considerations. There are multiple contracts to be created that need scrutiny, to avoid underlying risks and prevent disputes, as well as to take care of compliance with the Franchise Law, which varies in each state.
In Motiva Business Law, we have more than 13 years of experience advising franchisees from different industries, such as hospitality, technology, retail, and services. We can guide you on the franchising journey, draft, review, and negotiate all the necessary contracts, ensure regulatory compliance, and help you have the best deal.
Call us at (630) 517 5529 and schedule a consultation with a franchise attorney.